BUILDING INNOVATIVE SOLUTIONS
We are a software development company.

About Us
Who we are?
Techwave is a company founded in 2016 and located in Sarajevo. Our developers are specialized in web applications, video players, monetization stacks. We are a tech partner that works alongside dealerships and publishers (digital but also broadcasters) to help them in the digital transformation process, adaptation of technological solutions aiming at improvement of advertising revenues and strategic consulting eith the aim of increasing revenues.
We have worked with some of the most well-known companies in the publishing/broadcaster field on complex and international projects in several countries (UK, Germany, Austria as well as Italy). Projects that we have managed were dedicated to improving viewability, vtr, attention KPIs in the video field or to increasing open market and programmatic fill rates through technological solutions that maximize revenues.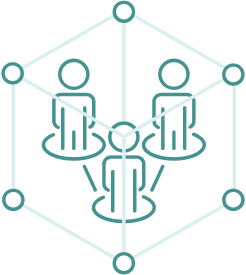 We Solve Problems
Our Solutions
Human Centered
Design
We aim to make our systems usable by focusing on users, their needs and requirements as well as to apply human factor and usability knowledge and techniques. Drawing inspiration from user engagement helps to tailor our custom solution requirements.
Scalable
Solutions
With defining a scalable approach when building a solution, we ensure that our system can meet users' demands with increased capacities. We tend to write code that puts scalability as a priority in order to meet huge customer bases.
Reliability and
Maintenance
Prioritizing customer satisfaction and maintaining our software guarantees a successful partnership. Investing time in solution maintenance is of great concern of ours and aligns with excellent customer service that we provide.

Foundation
Core Values
We are delivering high end custom solutions which require that clients, managers and developers are working in sync. Therefore, we expect from each one of us to be driven by integrity, commitment and a constant need to learn and grow.
01
Learn & Grow
Each day we do something a little bit better.
02
Commitment
Do your best to deliver best possible end result.
03
Integrity
We do what we say and we make an impact.

Stack
Technologies
We use a wide variety of technologies in order to translate innovative ideas into the best possible solution.

Careers
Interested in joining our team? Take a look at open positions and send your resume to the email below.
tijl@techwave.io
Competitive Salary
Promotion opportunities.
Relaxed Environment
No overtime!
Top Equipment
Latest hardware for work.
Personal Development
Learning to self execute.

Current Open Positions:
There are no open positions at this time.